I have cracked on with my Midwinter cushion and sewn together two cushion panels.
Wanna see? I'm really happy with these…
Sewing the blocks together was very fiddley as the dots in the edging of each block made it scream if each stitch was not perfectly aligned. I have learnt that, in mattress stitch, you take a whole stitch from the top and two half stitches from the bottom to make your knits line up. There was an amount of swearing and unpicking to get this accurate too 😮
I could just sew these two 9×9 blocks together and have one fabulous cushion. But I wanted two cushions….
What to do with the back?
I kicked around a few ideas in my head but kept coming back to one big motif on the back. And I still had a colourful stashof Rowan Felted Tweed to use up….
I set up an Excel spreadsheet to have each block the height and width of a knit stitch (cos they are not square!!) and took one of Martin Storey's design I'd done in red and laid it out using a block of 3×3 stitches in place of each stitch.
Steek!
…Then I decided to knit both backs in the round for ease…which required a STEEK!
The thought of cutting my knitting still terrifies me – we shall see if it works…
I put in a 9 stitch steek and started the row 4 stitches into the first steek. I reasoned if I'm going to cut anyway, why darn ends in? just cut them off with the steek.
This is the pattern I created for myself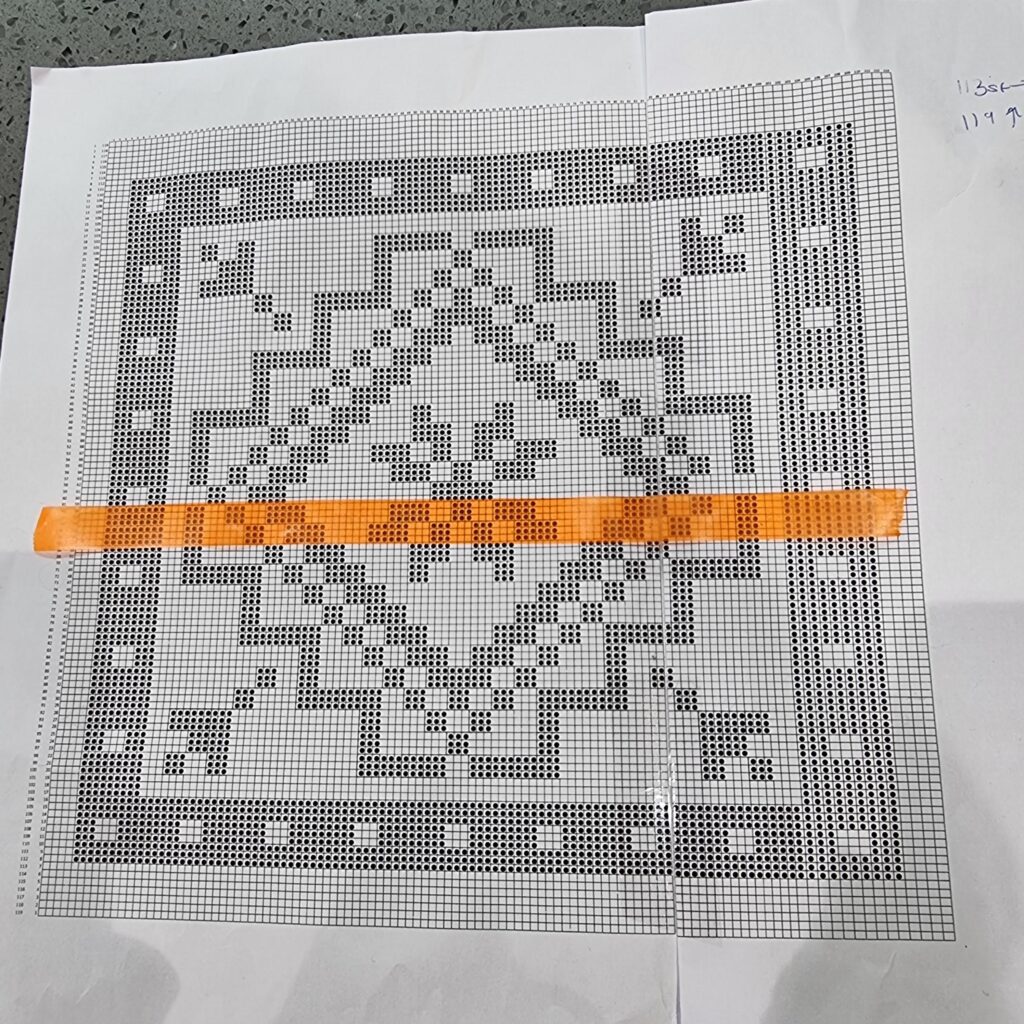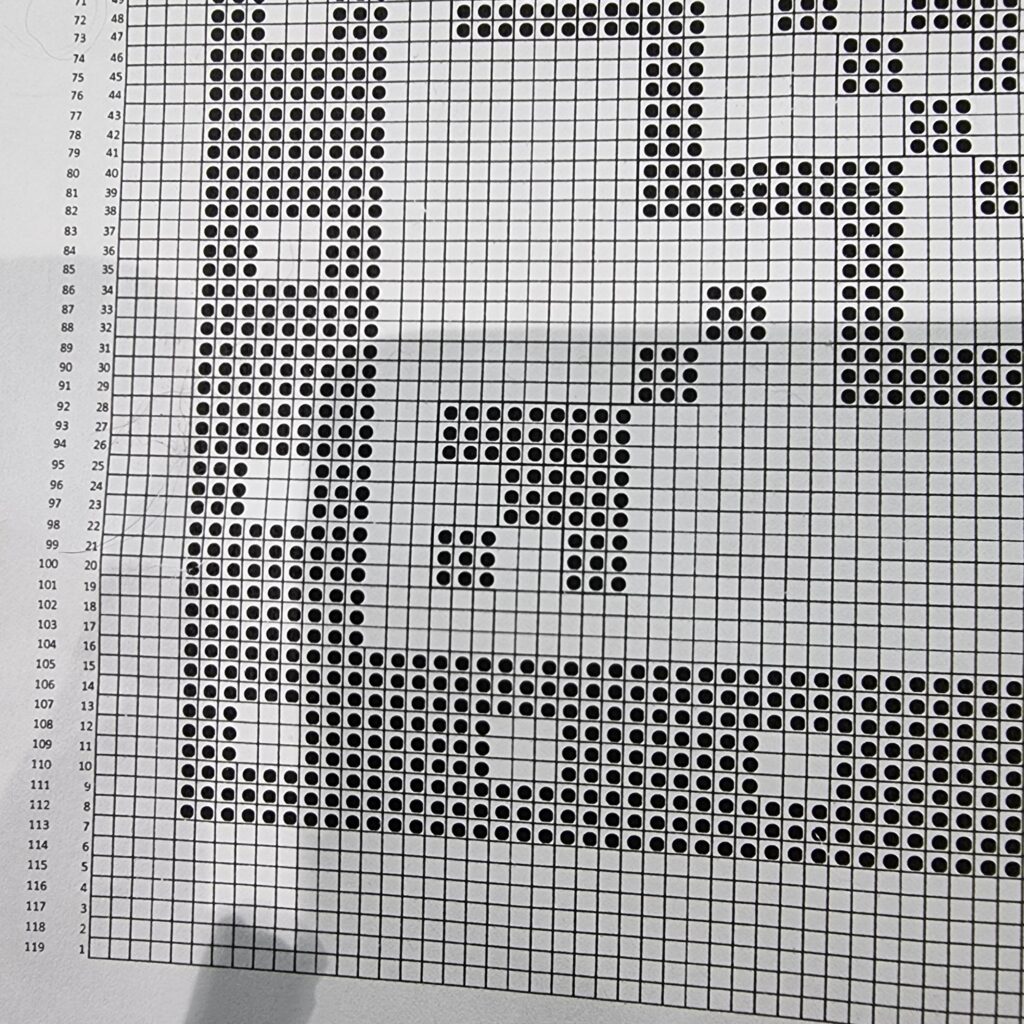 These are the notes I put on my design in case you want to cast it on…
Scaled up Midwinter block by Susan Crowe

Pattern block is 113st

Steek is 9st

Place markers at beginning and end of steek blocks.

Yarn is joined in centre of first steek so you cut it with the steek (no ends to sew in!)

For one back, cast on 4 steek st, 113 pattern st and 5 remaining steek st in the round on a circular needle

For two backs, cast on 4 steek st, 113 pattern st, 9 steek st, 113 pattern st and remaining 5 steek st in the round
What colour (or colours) on the back?
After a fun afternoon of playing around in Excel (for the nerds out there I was doing this with conditional formatting) with one, two three row colour changes I decided I needed to change colour every row.
I grouped my Felted Tweed collection together in colour families and bravely started knitting.
So far, so good!
(Excuse the pegs used to make it lay flat for photos…)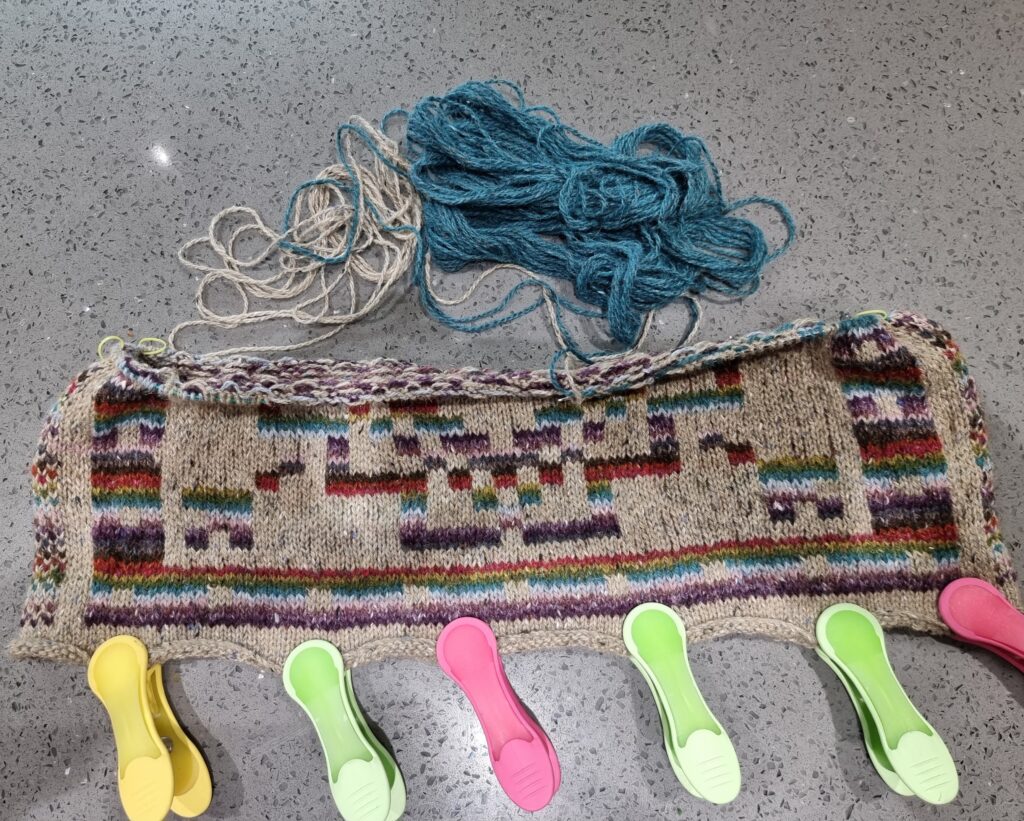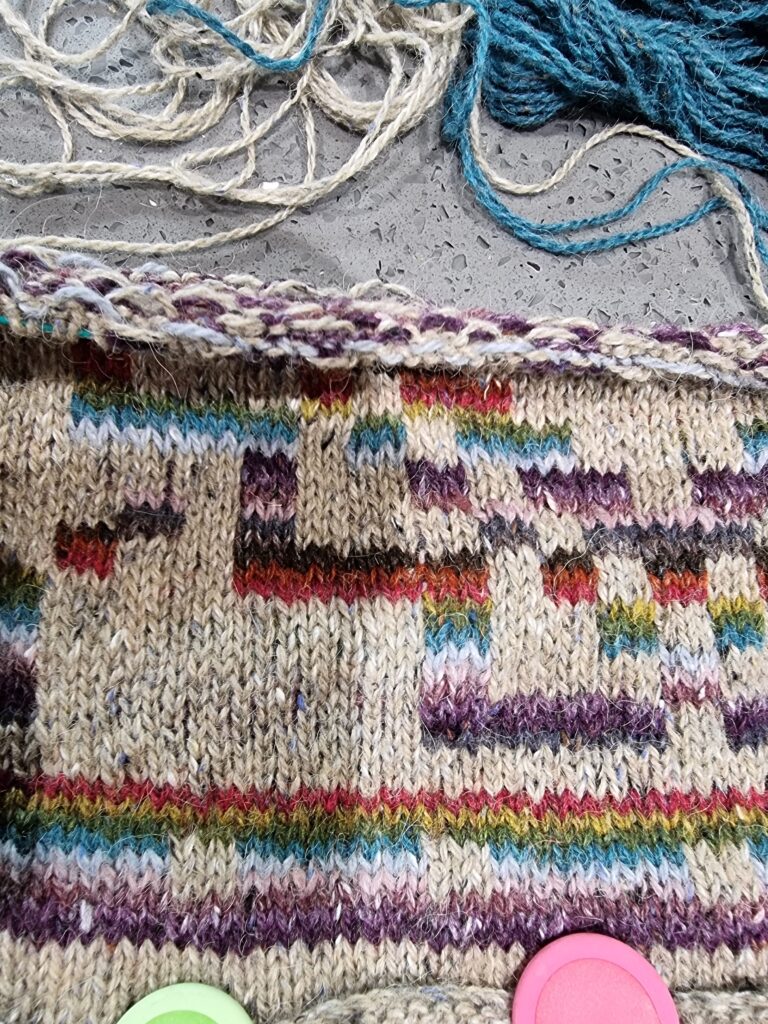 The surprising part is that my steeks are the best looking part!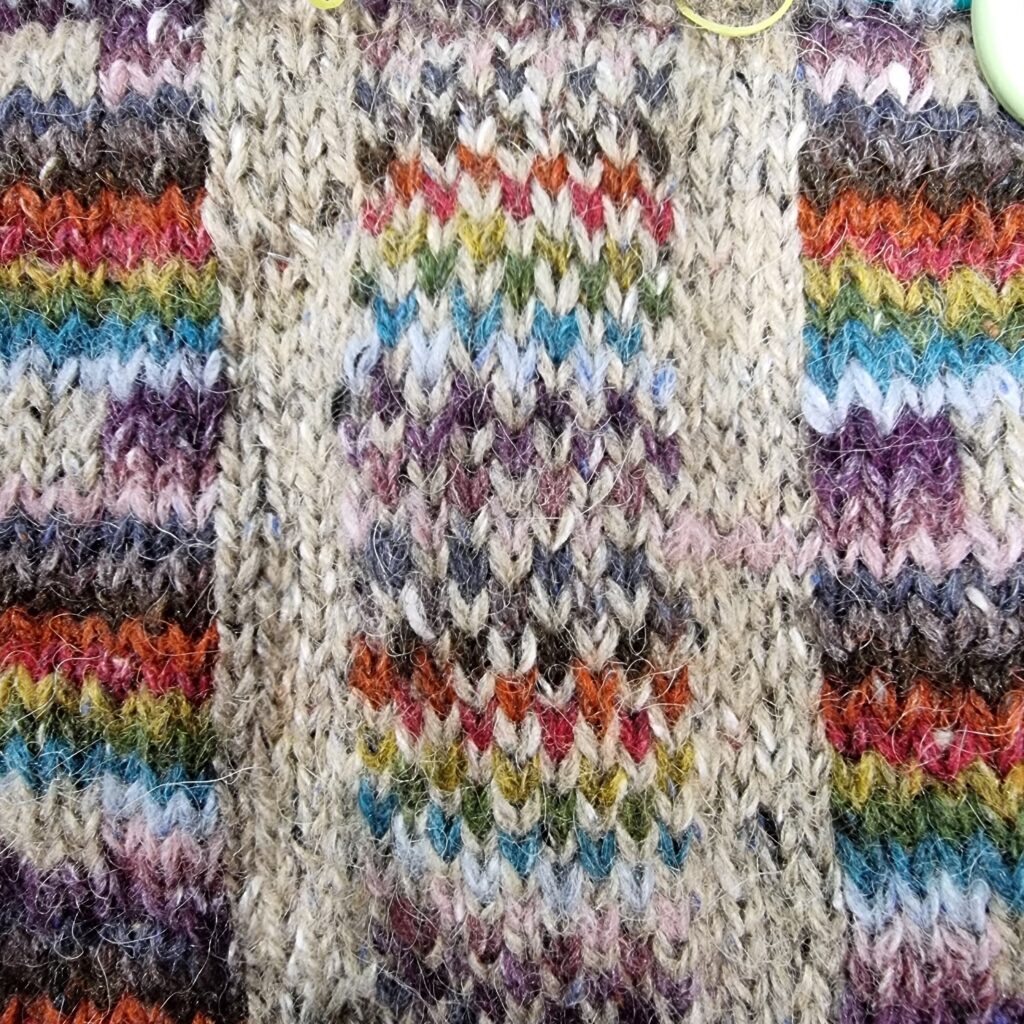 And I know you want to look at the back and see where I join my yarns – each colour is simply knotted together in expectation of being cut with the steek…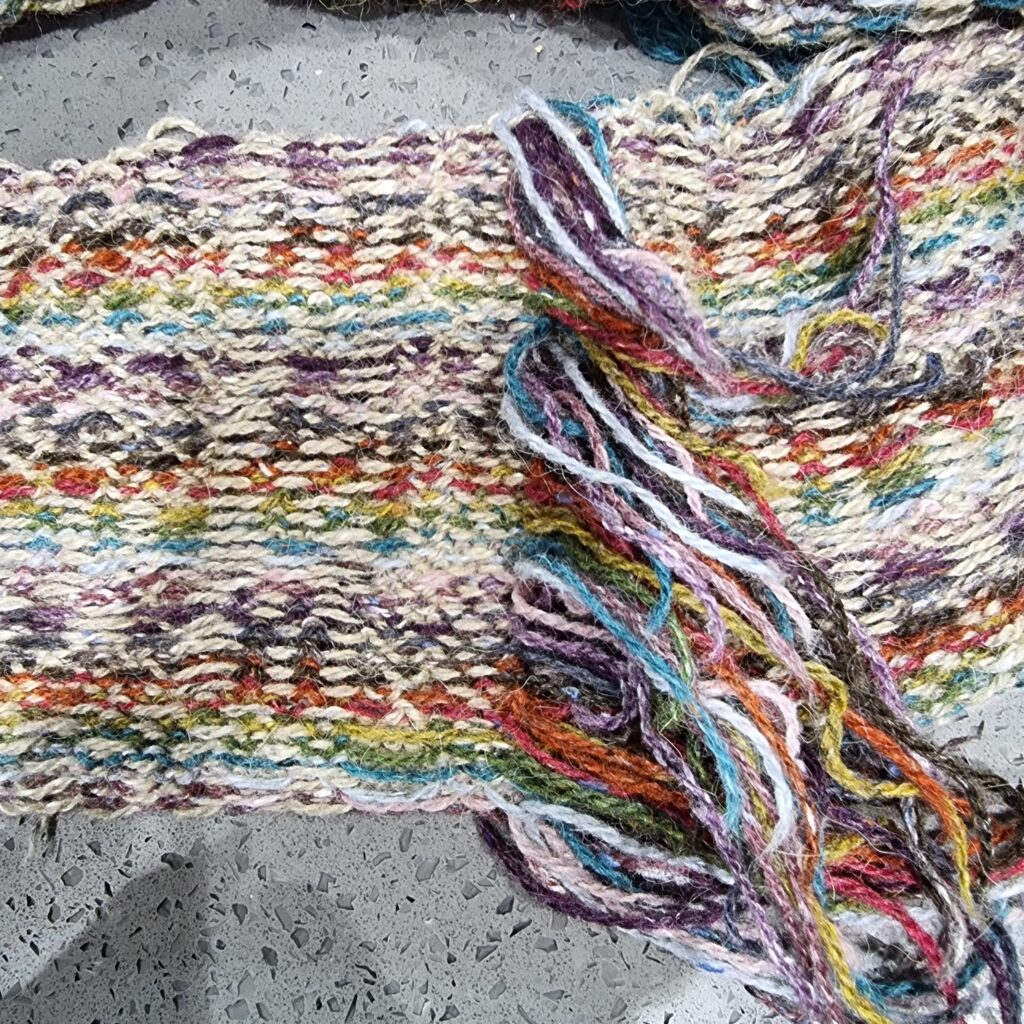 So far this is great fun…
If it turns into a cushion back I'm going to be thrilled! 😀