I've had a Blue theme the last couple of weeks – the colour not the mood! Both my latest Knitting WIP and my DIY projects are the same shade of blue!
My latest WIP is After The Rain by Wensleydale Longwool. It's another of my Unravel Festival purchases.
Here's one of the pattern pics…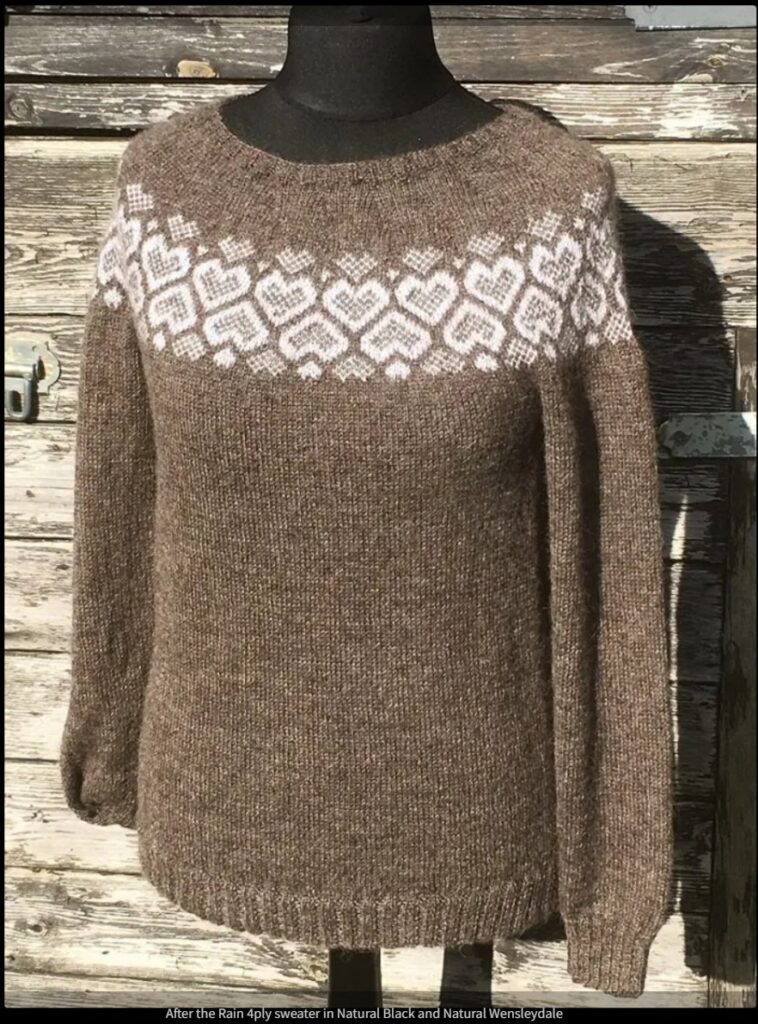 I chose to make it in Denim blue with Cream pattern- these yarns…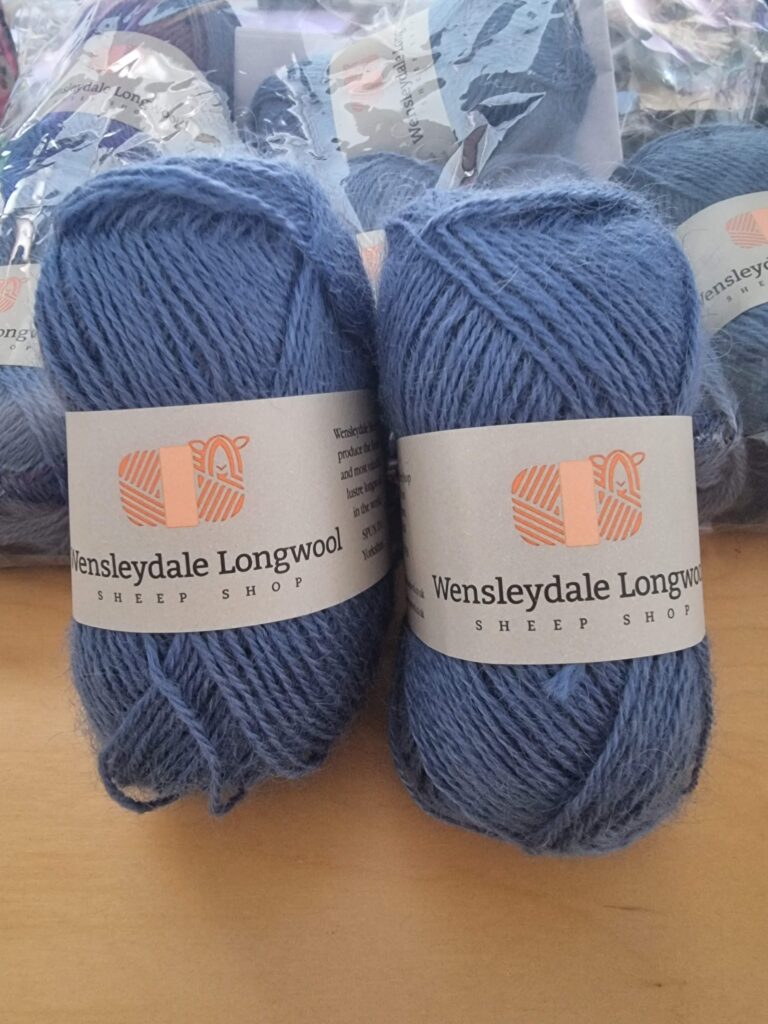 It's a longish jumper and it has not been thrilling or blogworthy so far!
The only excitement was getting confused at casting on 266 stitches and doing rib…
"This neck is going to be enormous", I thought.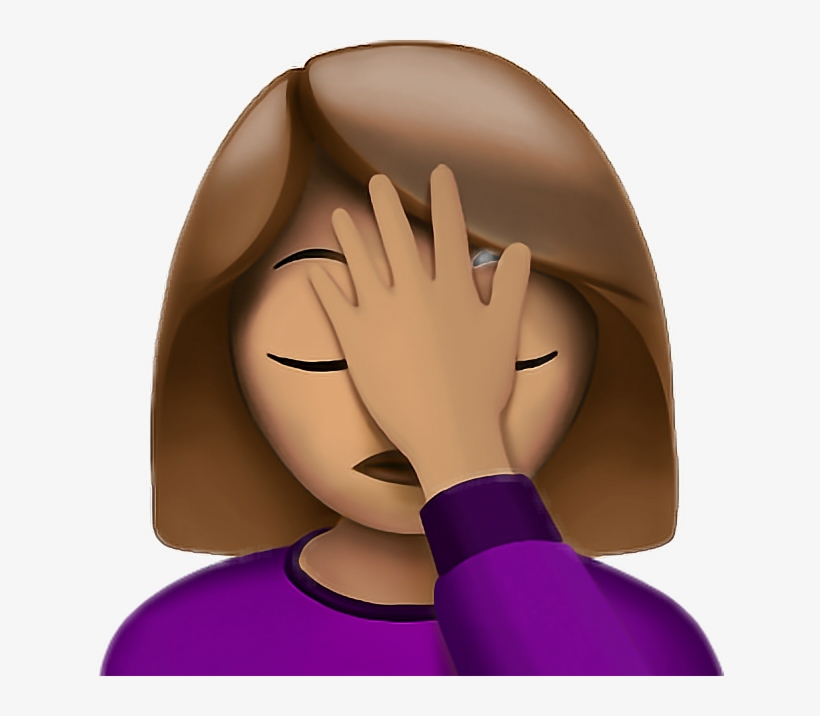 Onward with 5cm rib and 43cm of plain stocking stitch on 3mm needles. No shaping. No fun. It was a head down slog.
This is the beast with the armhole shaping done, on a stitch holder while I knit the sleeves…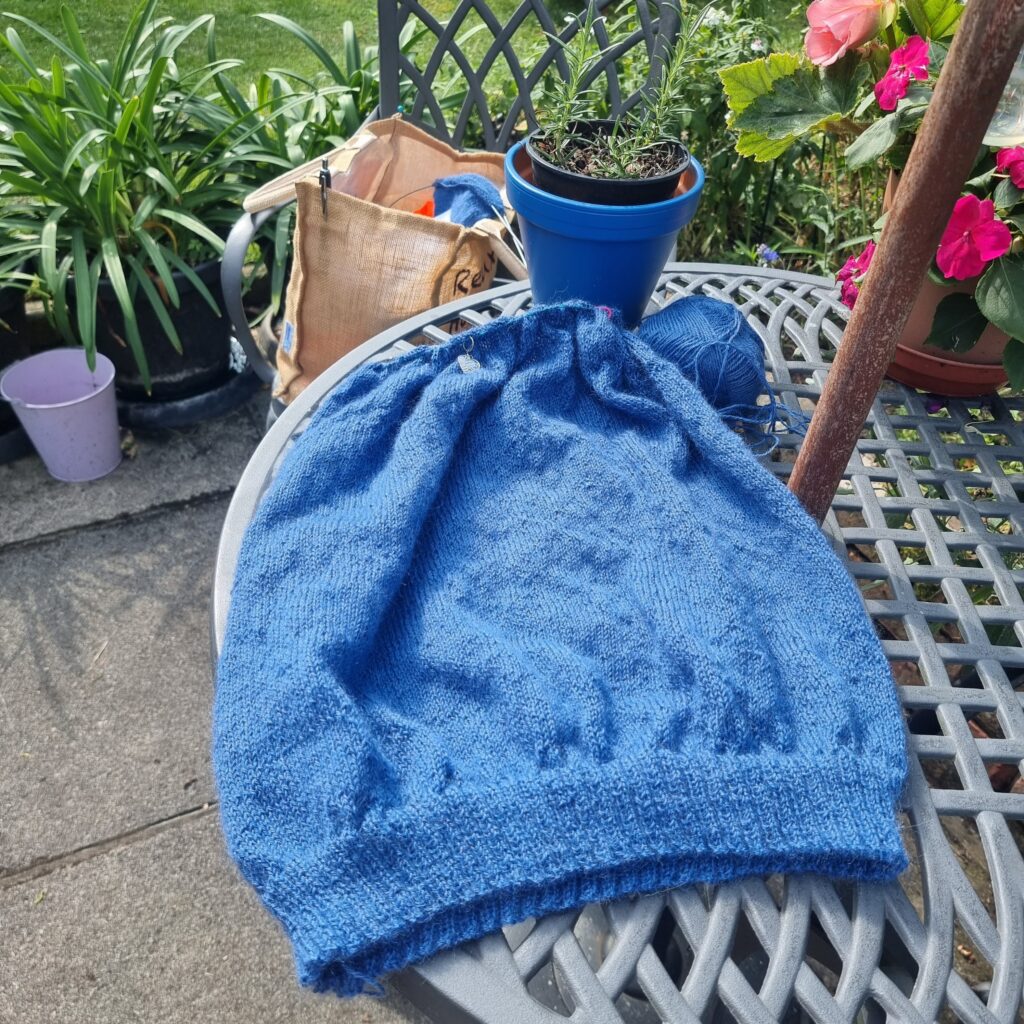 I've just started the first sleeve – at least there are some increases every 9 row for "thrills"!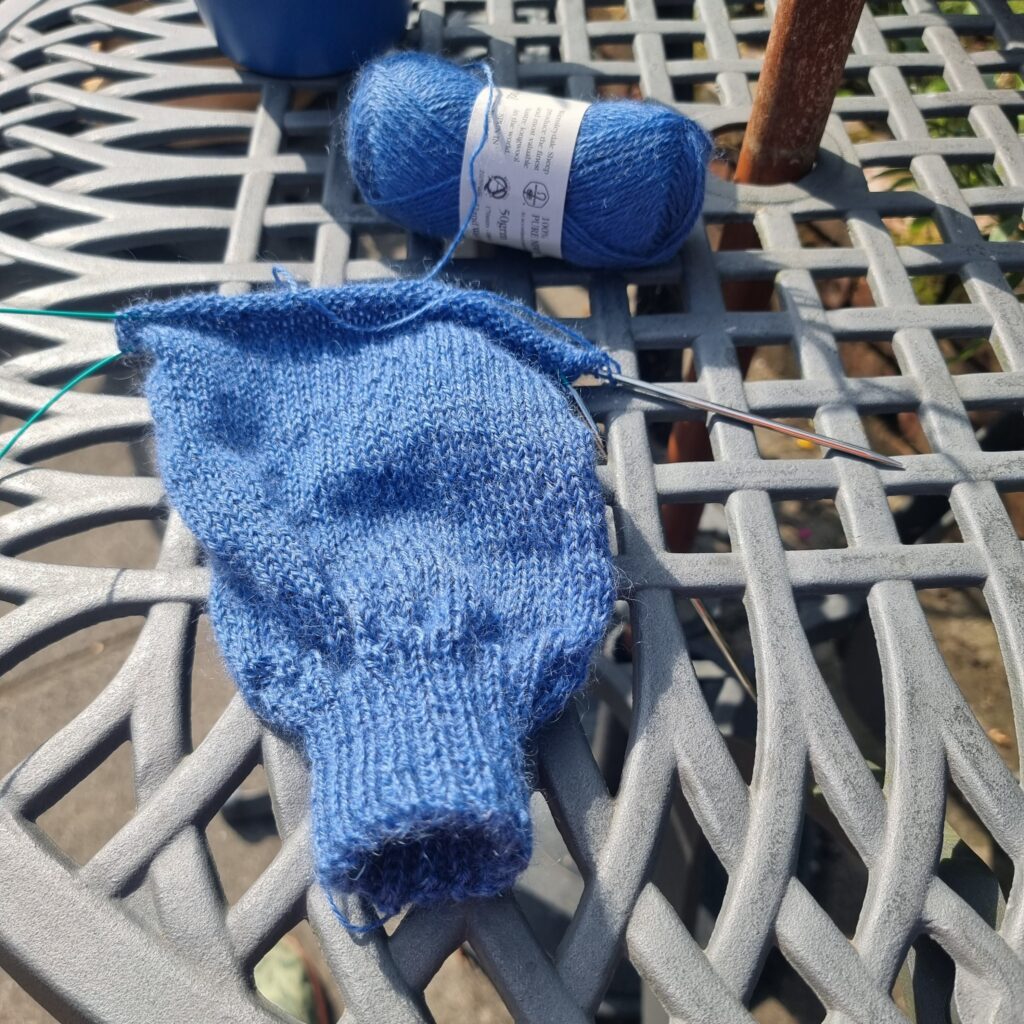 So what else is blue?
I inherited with my house, 12 years ago, an octagonal green house which I use as my potting shed. It was dilapidated and rotting. I painted it with Blue garden paint as I had some leftover from an ancient rocking chair project.
Blogged here: https://susancrowe.co.uk/2007/05/06/gardens-knitting-chair/
Everyone in my family immediately christened it my TARDIS. (Wikipedia page if you don't know what a TARDIS is! https://en.wikipedia.org/wiki/TARDIS) Very briefly the TARDIS is the time travel and space ship from the Sci Fi show Dr Who.
This is the "real" TARDIS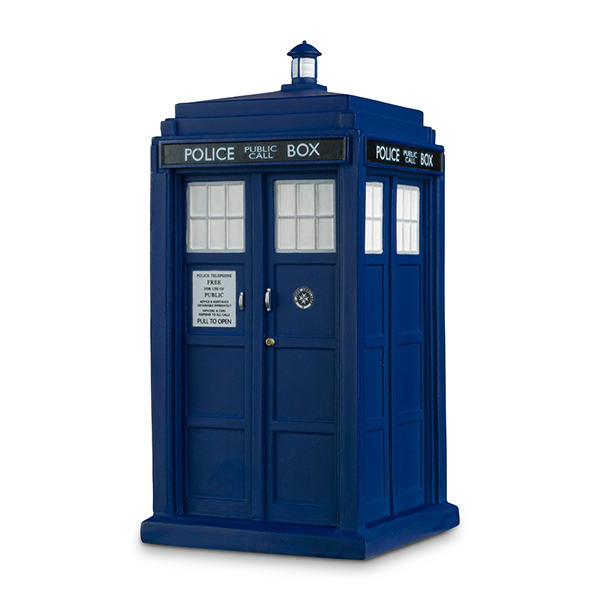 I'm a Science Fiction nerd and loved Dr Who as a child and adult, not least because the Dr's granddaughter was called Susan in the first film!
After 12 years, my poor old TARDIS needed some serious renovation. The doors and runners had fallen off, the roof was coming apart and several wooden parts were rotten.
Ben doesn't enjoy this kinda task and I do so I told him to leave me to it…
…A couple of weeks of sawing, wood hardener, filling, sanding, dirt, drilling, screwing and balancing on one leg up a step ladder followed.
I even got carried away with the paintbrush and painted a terracotta pot for my rosemary cuttings!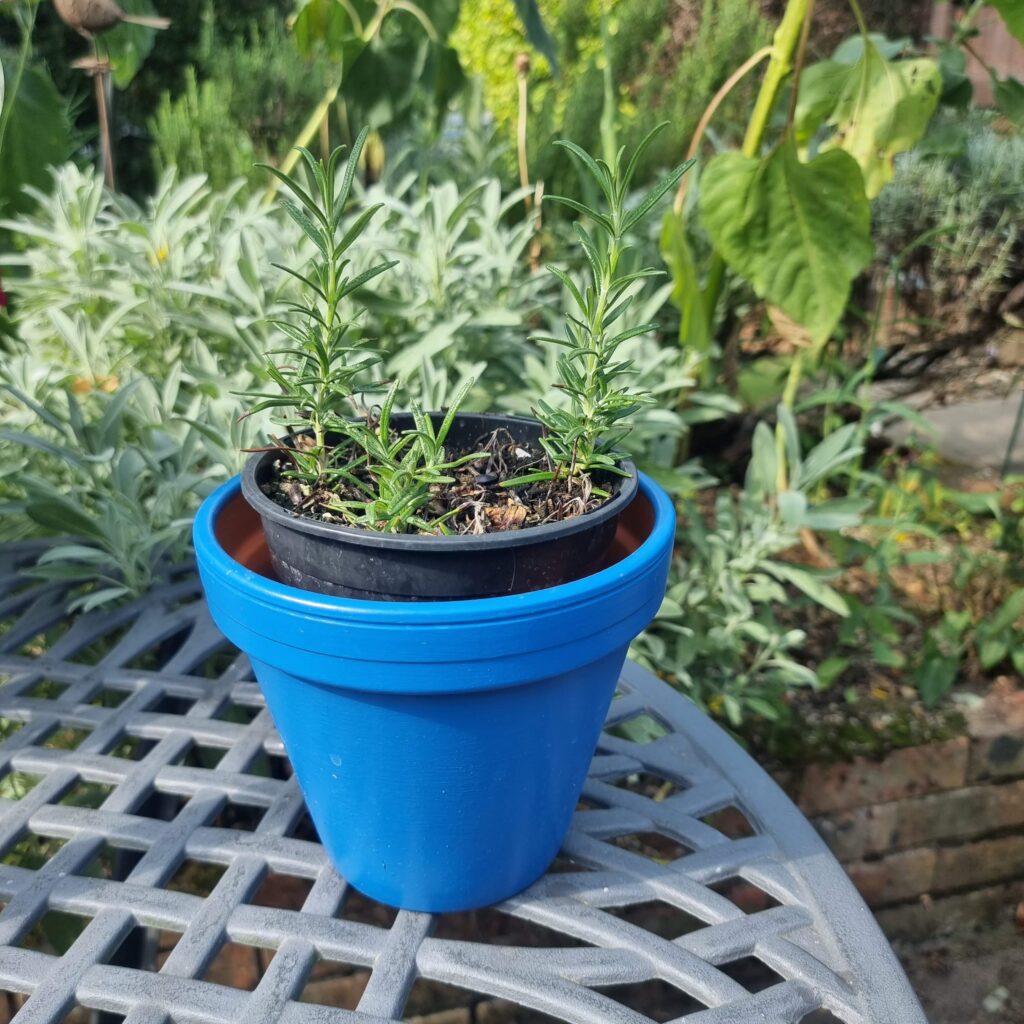 Once repaired and freshly painted, I couldn't resist embracing the TARDIS theme and added the iconic signage.
It was only when she was finished I realized she was the same colour as my WIP!
Do you like my TARDIS?