I contracted Jelly Roll fever in summer 2021. It took eight pairs of socks and a year of fun to beat my obsession with these cute little socks into remission. I still fear for the safety of my sock yarn stash. I may relapse at any time.
The First Pair
These were the initial symptoms of Jelly Roll fever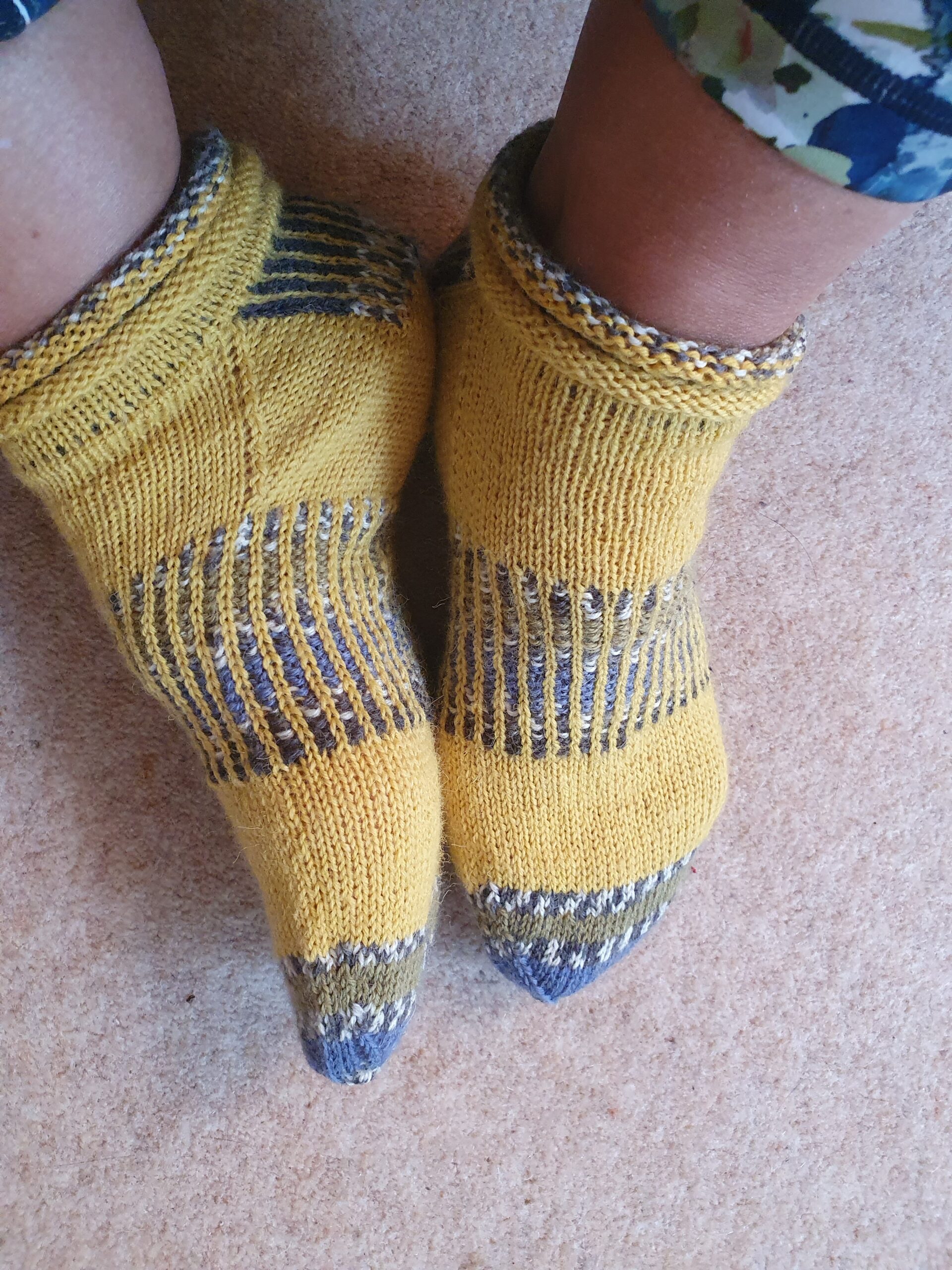 Cute Huh? It's a lovely sock pattern called Jelly Rolls by Mara Catherine Bryner. It's a beautifully written pattern with multiple difficulty options throughout – One colour or more, corrugated rib, normal rib or no rib, one or two rolls at the top – endless options and stash busting opportunities.
Of course, being me, I went for the most difficult, fairisle options throughout and a double roll of stocking stitch at the cuff.
I made the first pair to go with a favorite pair of Sweaty Betty shorts shown below. I'm a keen runner and a big fan of Sweaty Betty for sports and casual wear so this was a fun crossover for two of my obsessions.
There were action shots of the making…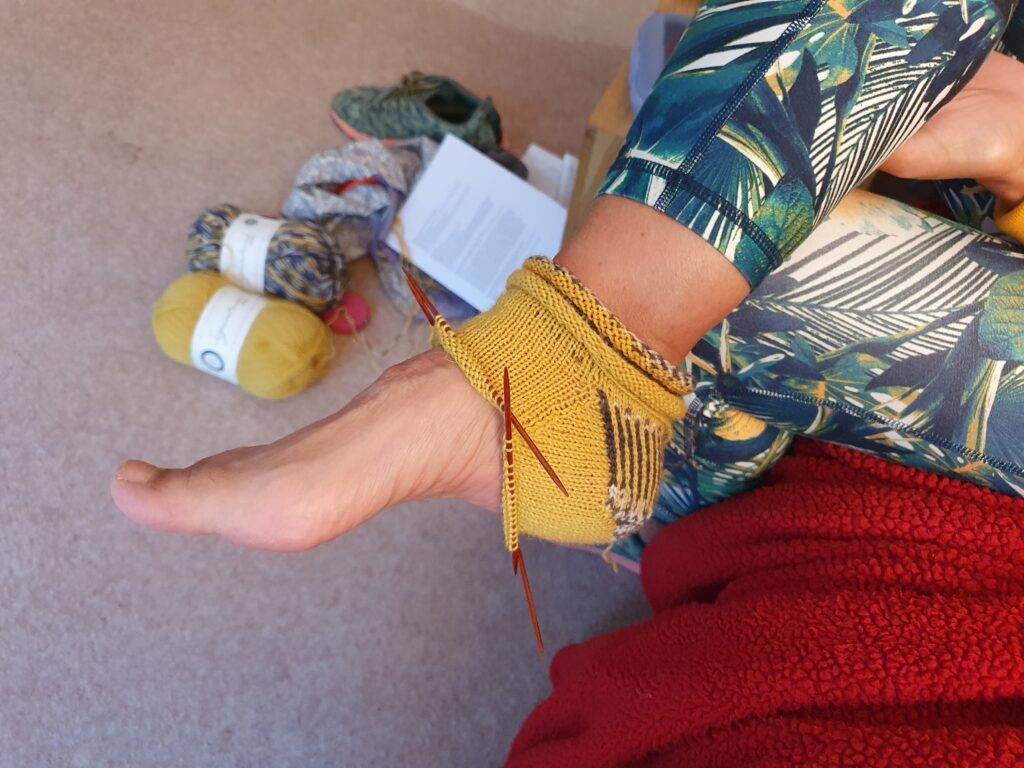 And again – Reversy Percy
Then I thought, "Ohhh! How about another pair with the plain and variegated yarns switching place – Reversy Percy"…
Side note: Reversy Percy after some favorite sweets – usually Percy Pig has jelly ears but they bought out my faves – Reversy Percy !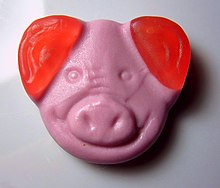 These are the same as my original Jelly Rolls but with the yarn A and B reversed.
2.25 for the body and 2.5 for the colourwork.
Colourwork done in two handed fairisle technique with purl yarn in right hand (corrugated rib) – the pattern is written to knit one round in one colour, slipping the other colour, then repeat to work the second colour – that was laborious so I switched to corrugated rib technique.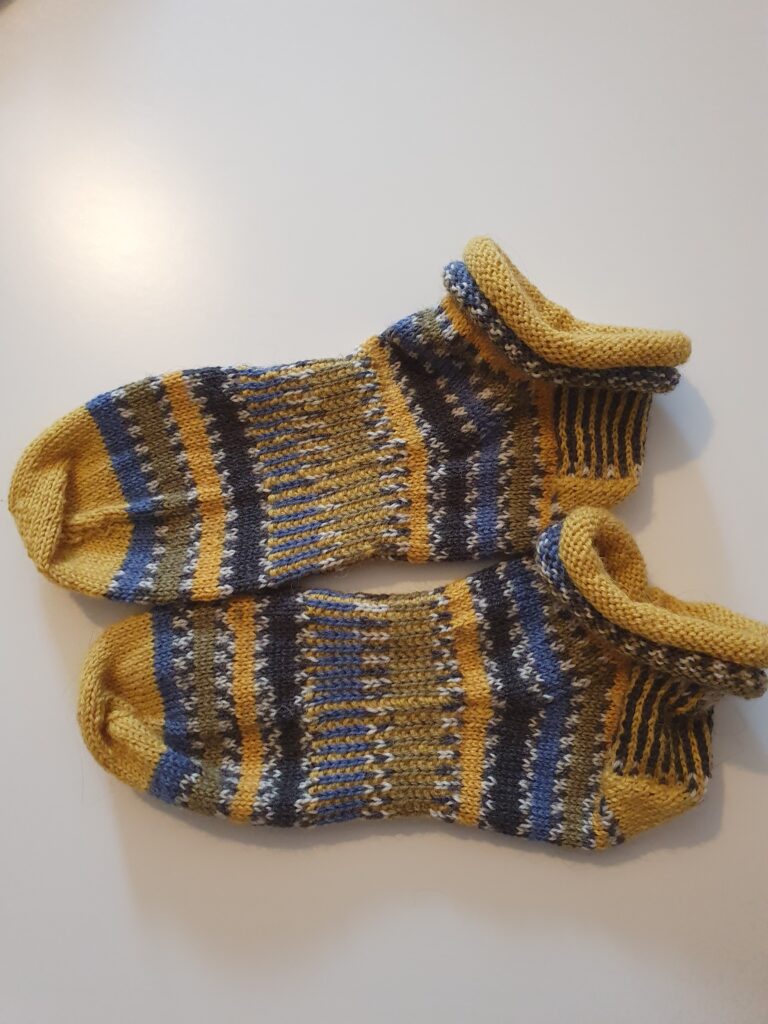 And Maybe a Stashbuster?
Needles now twitching to make more, I went stash diving.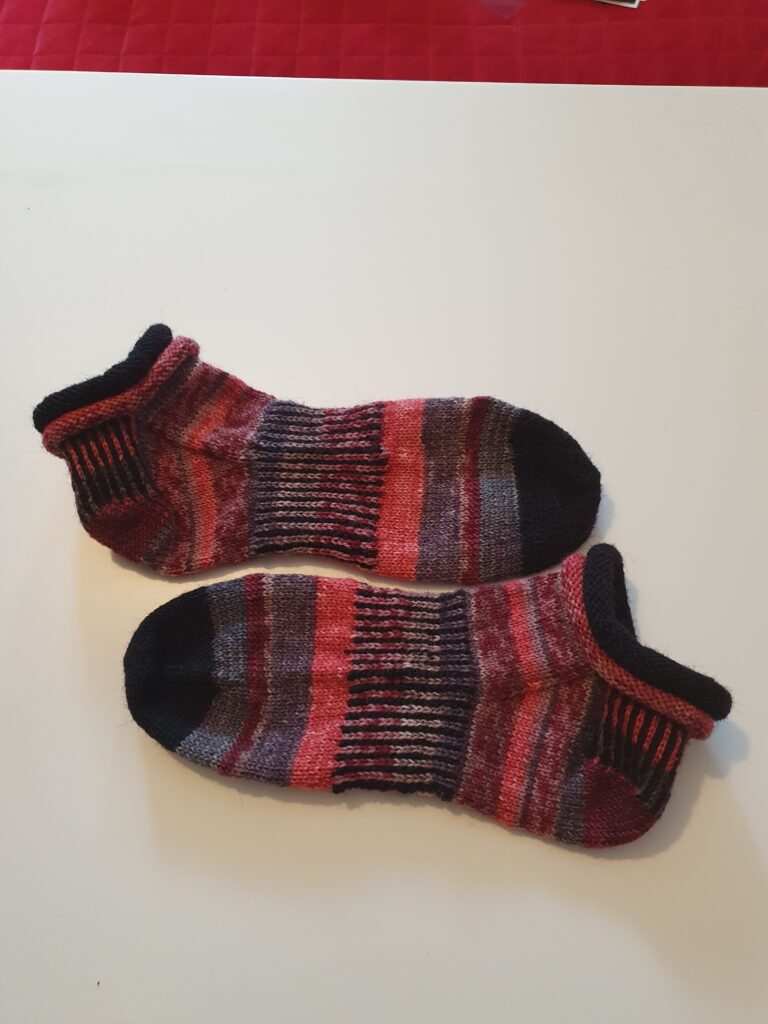 I used left over Bergere de France Goomy for the main colour and some old black oddments for contrast.
Then I realized I was going to run out of the Goomy.
I used up a scrap of wine coloured yarn to make a contrast heel.
At that point I realised I needed to make knit both socks at the same time, on two different sets of needles so I could make sure they matched and got them each to the same point.
I ran out of Goomy near the toe and threw in a stripe of grey that matches really well. finished off with a black toe.
Stashbusting was fun – lets do it again- Acid Attack!
Doing both socks at the same time (different sets of needles) to ensure I have enough of each scrap.
Drops fable leftovers and orange scraps of regia yarn from a pair of plain orange socks long ago…
…Ran out of the plain orange halfway through the heel flap 😮
…Managed to blend the orange and pink variegated to finish off.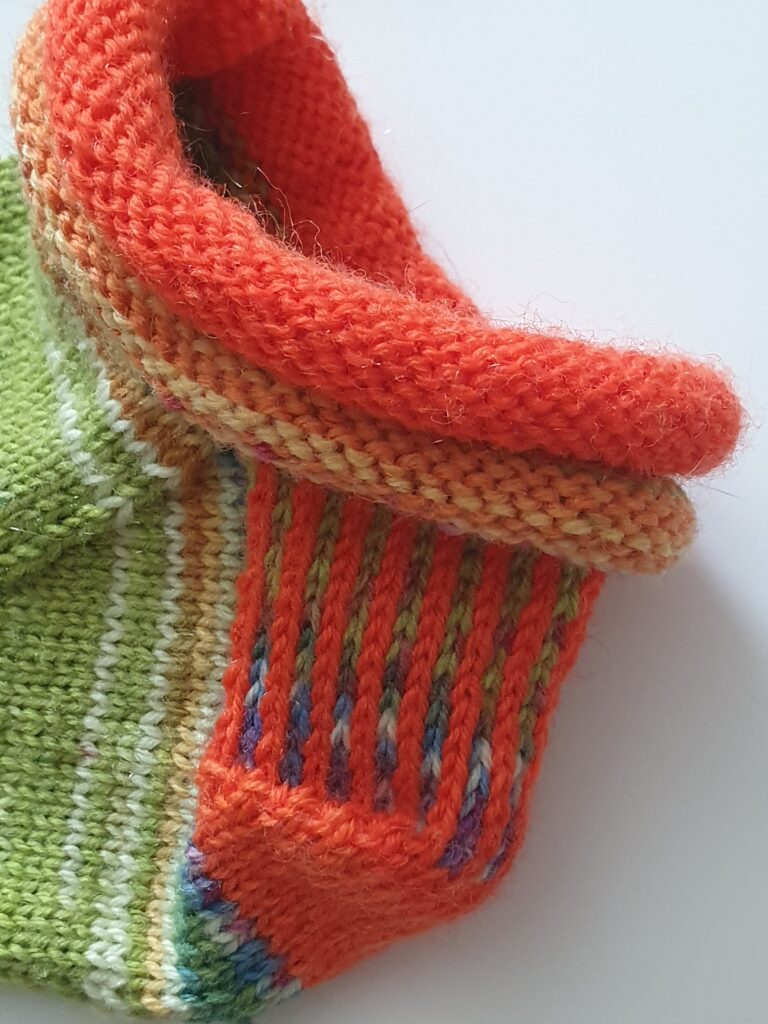 Matching Pigeon Leggings
Next pair matched my Sweaty Betty Pigeon Leggings. Look closely at the leggings and it's a grey London Pigeon with yellow eyes and feet!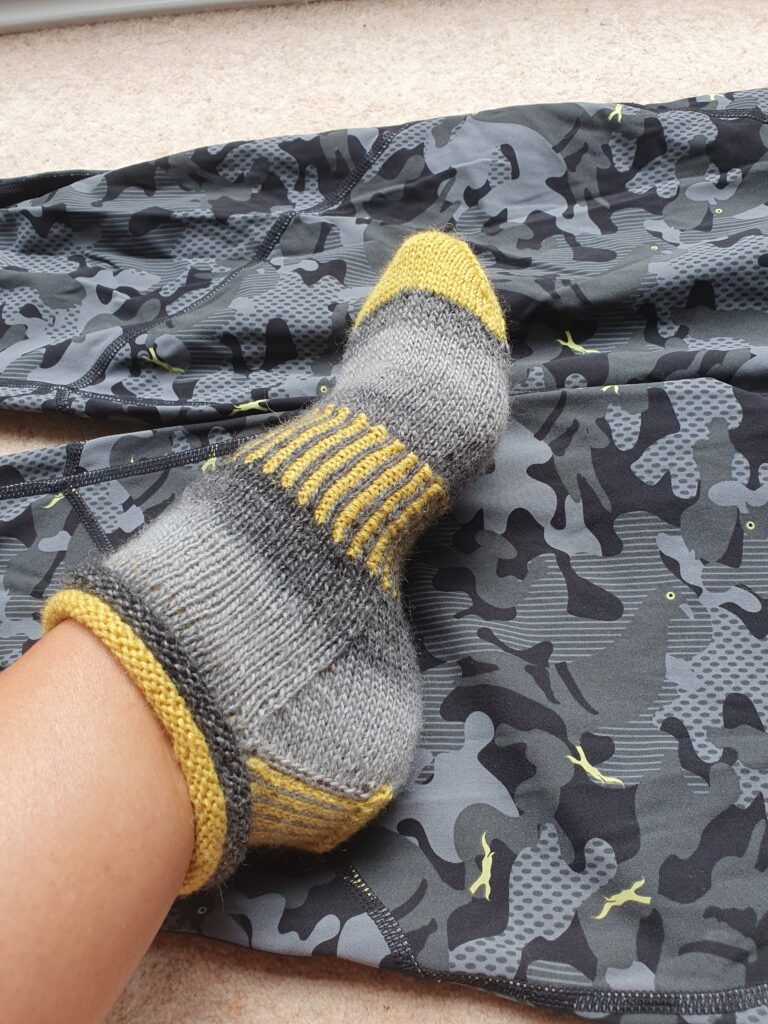 Green for the hell of it
Next pair was a pallet cleaner after a huge disastrous knit and reknit (another post for another day!) I had bought some new sock yarn and couldn't wait to knit this up! Pretty!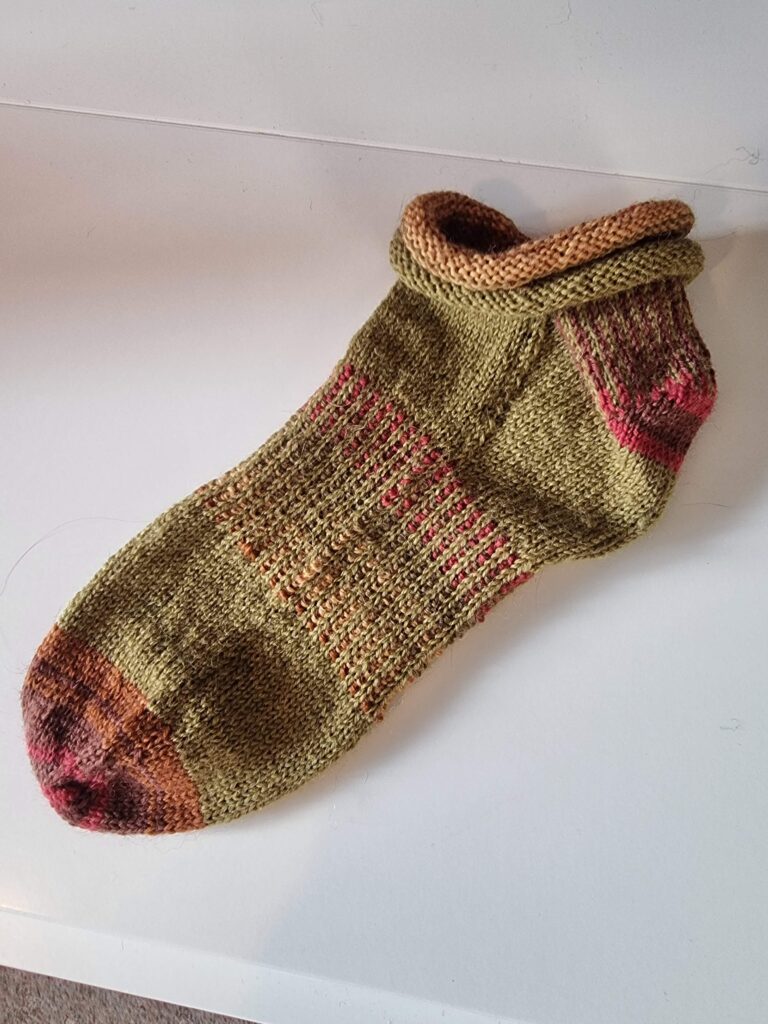 Pink and splodgy
Next pair was to go with another pair of Sweaty Betty Leggings – not sure these worked so well – the pink is too dominant but hey, when is pink not cute?!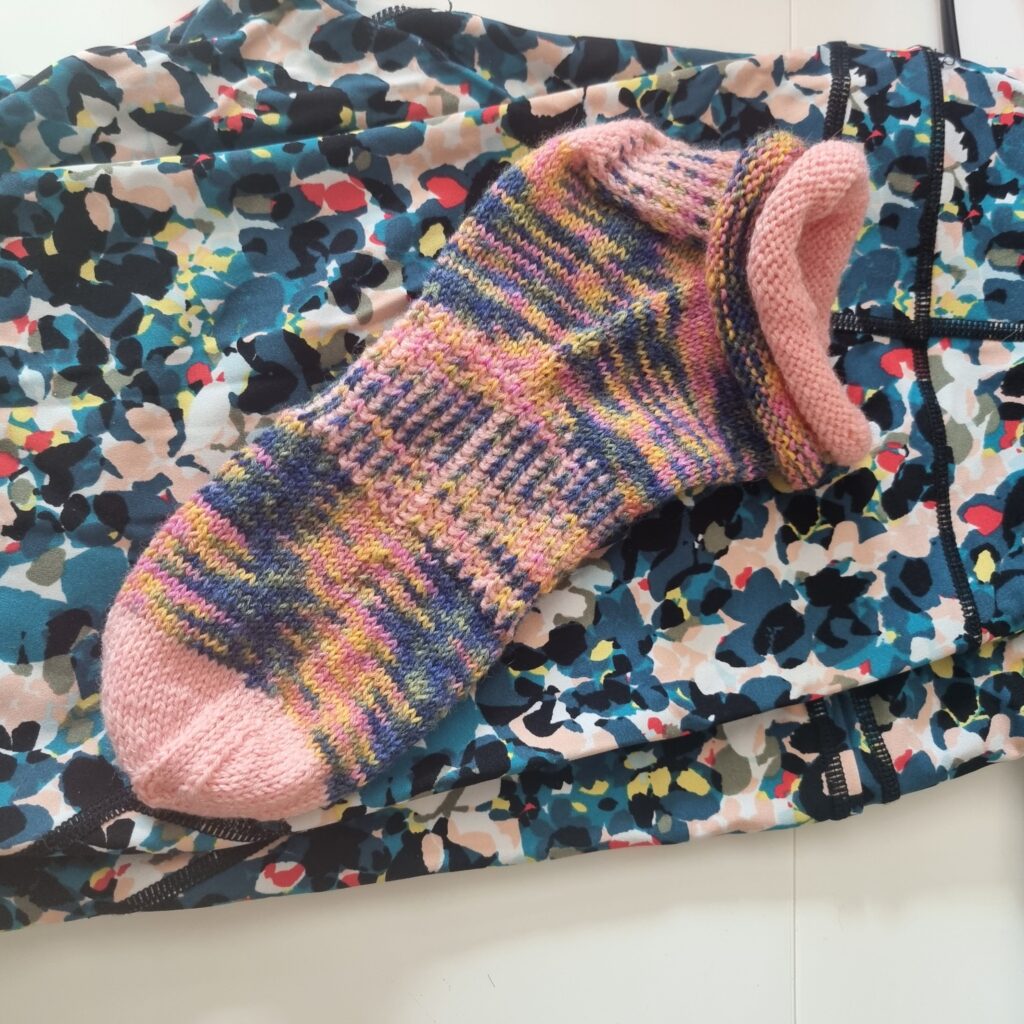 My fave trainer Jelly Rolls
And my last (or at least the most recent) pair of Jelly Rolls – to match some fabulous leopard print trainers.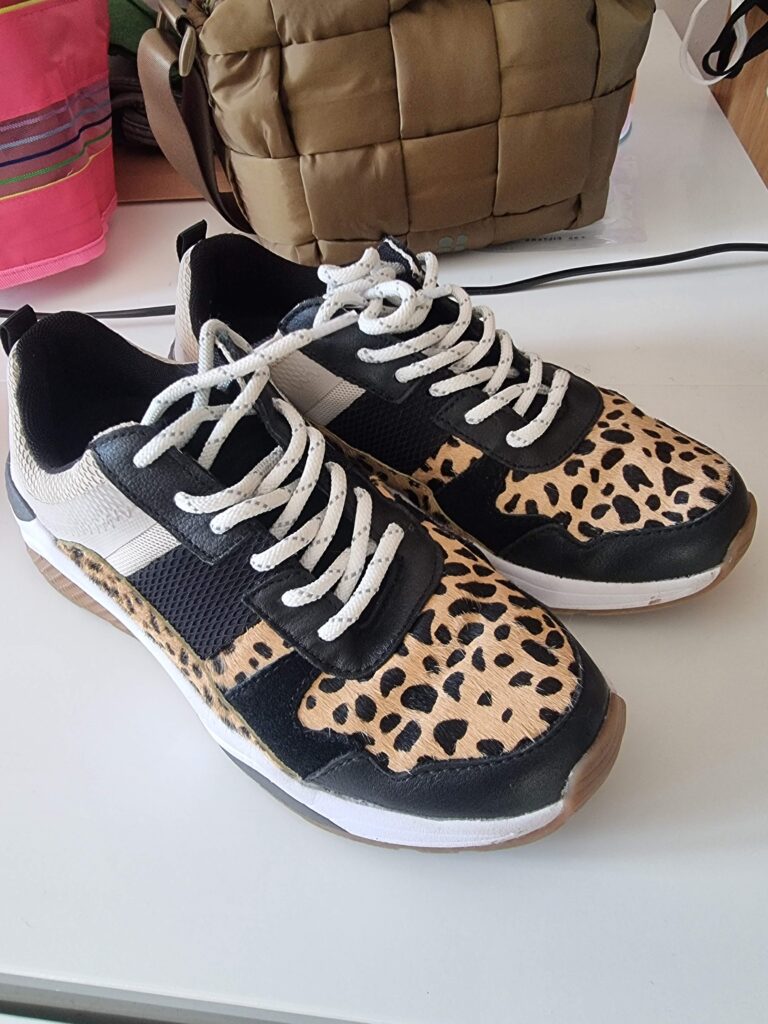 Have I worn them?
Hell, Yes! These are in regular rotation – All made from machine washable sock yarn (I have no time for handwashing socks). Machine washed but not tumble dried. The Yorkshire Spinners and Regia are particularly durable. Love these socks and I can see me making many more, maybe some variations without the rolls? Watch this space…
So which ones are your favorites?
| | |
| --- | --- |
| Completed Knit Report | |
| Name: | Jelly Roll Socks |
| Pattern: | Jelly Rolls by Mara Catherine Bryner |
| Yarn: | Mostly Yorkshire Spinners Signature 4ply and Regia4ply but also many scraps. |
| Pattern Problems: | None except getting tension right – for me 2.25mm on body and 2.5mm on colourwork |
| Pattern Modifications: | Used Corrugated Rib method for colour work rather than I row for each colour as written. |
| Washing and Wearing: | Washed and worn many, many times. They do tighten and felt slightly so make on the slightly large size but nothing significant. |
| Knit It Again???: | They are in my blood – almost certainly will be repeated. |
| Difficulty: | The version I chose had multiple techniques but there are easier options too. 3/5 |
| Rating: | 5/5 (How could I score less for something I made 8 times?!) |
| Other Postings Relating To This One: | None. |