I finished After the Rain a couple of weeks ago – Oh Wow do I love that yoke pattern!
… but I only got around to doing the obligatory photo shoot today – Bad Susan!
I won't tease you – here she is…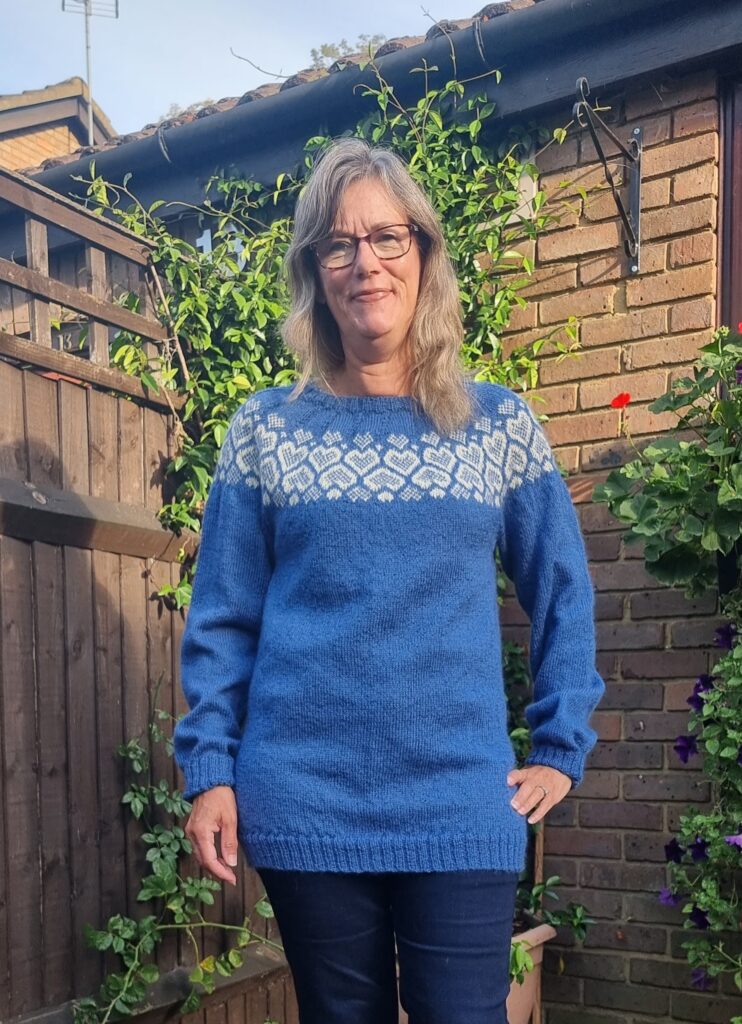 Last time I spoke to you I'd just started the yoke pattern after some pretty mundane plain stocking stitch for the body and sleeves. The pattern was given as a chart to be repeated a number of times around the yoke. I put in stitch markers for each pattern repeat to give me an "early warning" if I went astray with the pattern. Like this…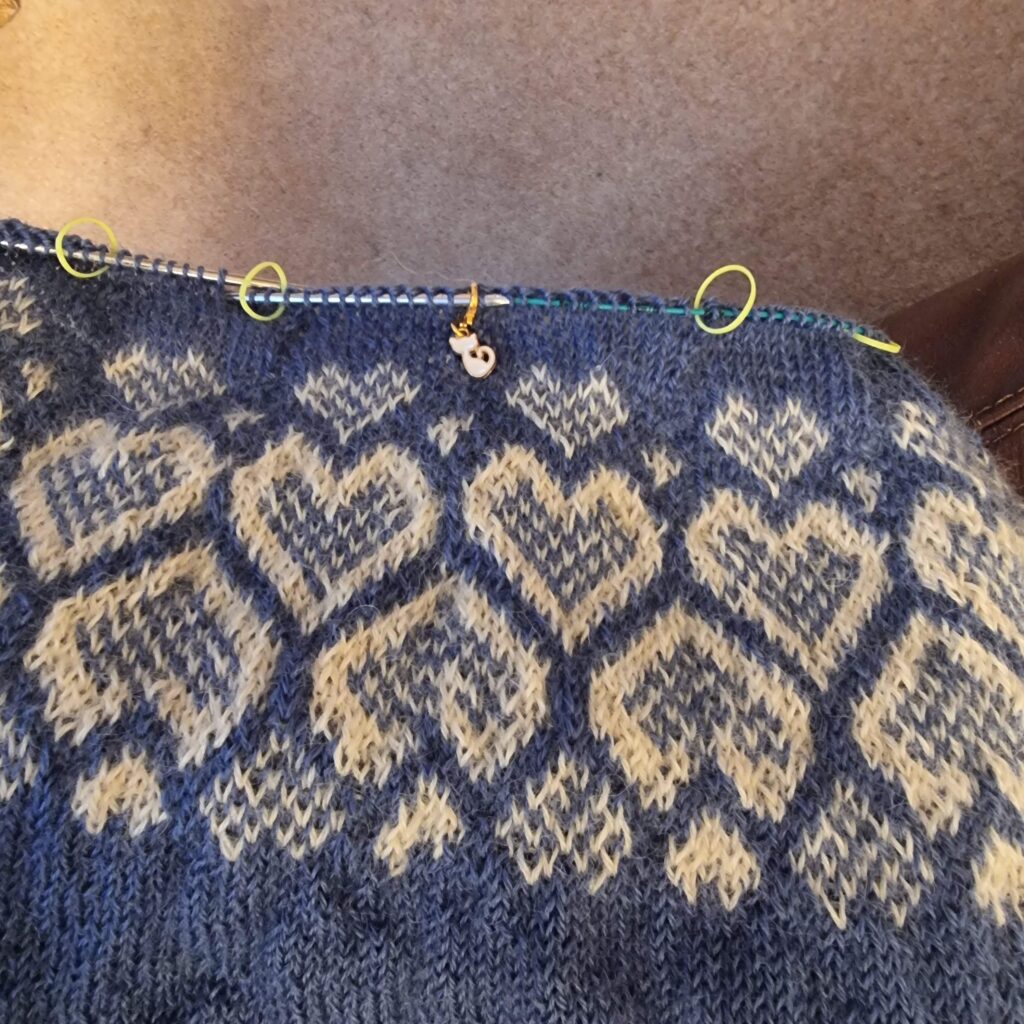 Yes, That is one of the cat stitch markers from Unravel – it's my end of row marker😻
The yellow ones are No More Snags Hair ties from Claire's Accessories – the perfect stitch marker IMHO.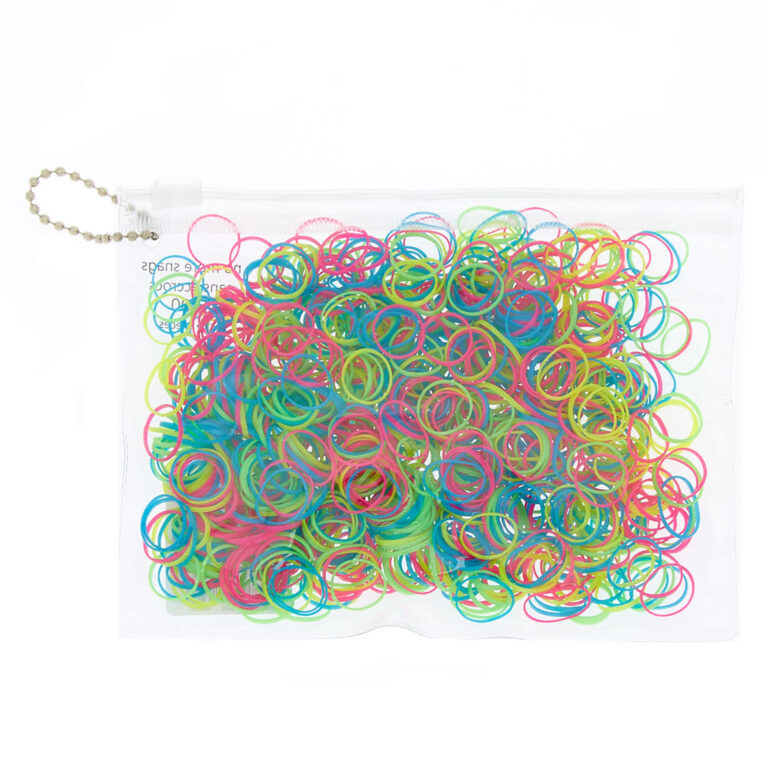 The yoke is lumpy and unpressed there – I'm always amazed at how much a like streaming with the iron improves and neatens my fairisle!!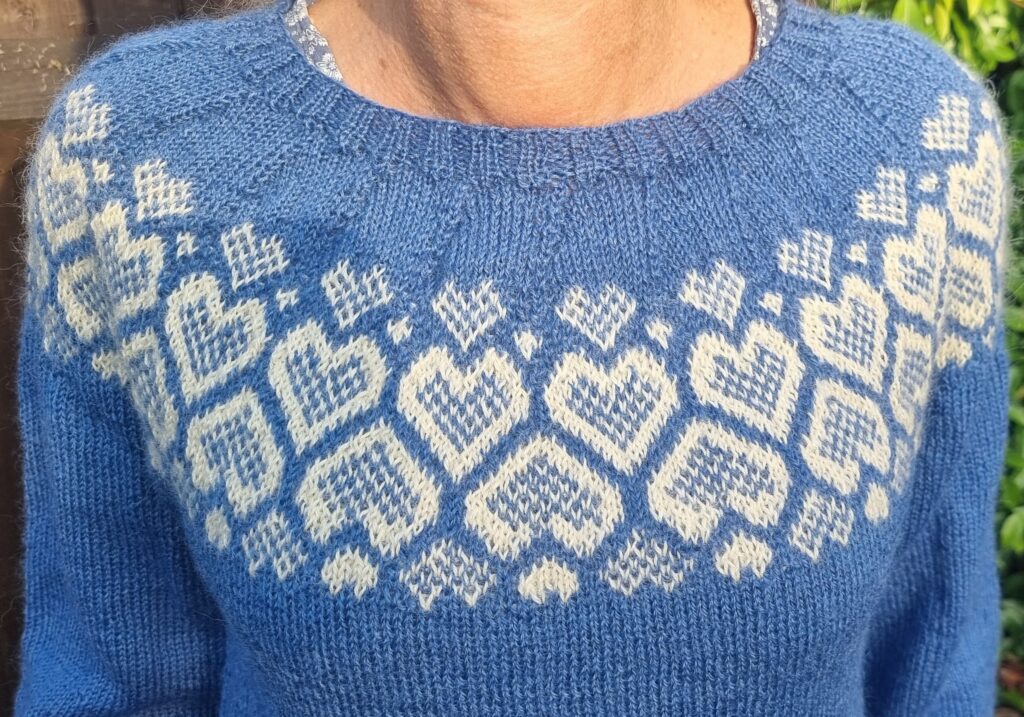 The stitch markers were also useful when doing the decreasing as the decreases were right beside the stitch maker – easy-peasy 🙂
I always love the wrong side of fairisle too – I wish more people posted pics of theirs – it's helpful!
Here is my wrong side…
Were there any negatives about this pattern?
I found some of the wording about length of body and sleeve could have been clearer "work body 43cm (or preferred length) in stocking stitch" I took to mean 43cm in stocking stitch in addition to the 5cm rib. With hindsight – that was too long for me – I'm only 160cm tall (5'3″). The sleeve length was also a little confusingly written. The number of repeats of 2.5cm came to more than the intended 43 cm length! (I have my cuffs turned up in the pictures)
I only had 4g of the blue yarn left -it was a game of yarn chicken I didn't enjoy! Probably because I misinterpreted the instructions and knit it too long. I have to say – I spoke to a lady on the Wensleydale Longwood stand at Unravel who was incredibly helpful and put aside a ball of the blue for me "just in case". This kinda customer service and care keeps me coming back 😀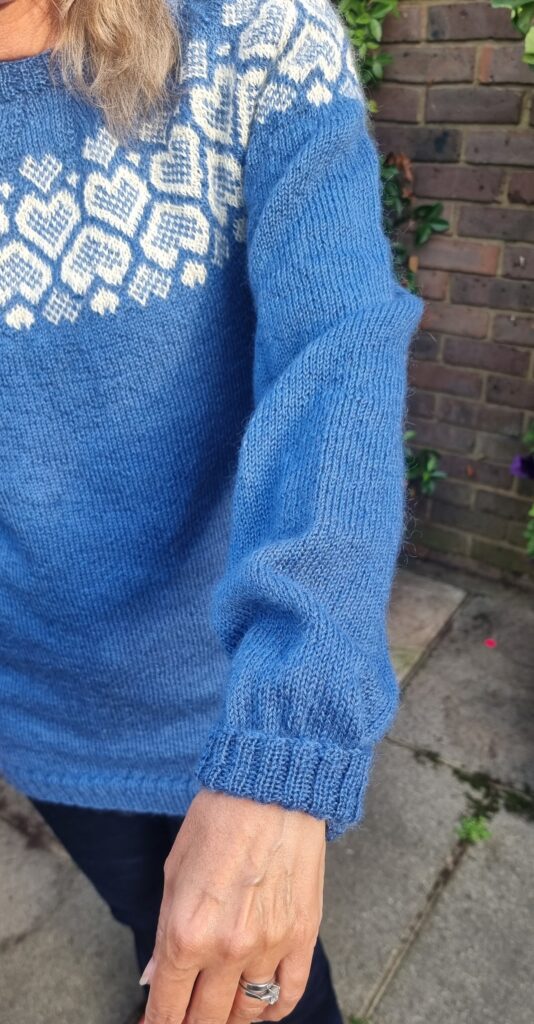 I intend to knit this again as I have some ancient grey Wensleydale Longwool yarn from one of my first Ally Pally visits in 2009!! Lessons have been learned. Maybe a size smaller and not so long…
I'll leave you with a shot of the back and the clever short row shaping and a shot with my primary knitting advisor – Ziggy…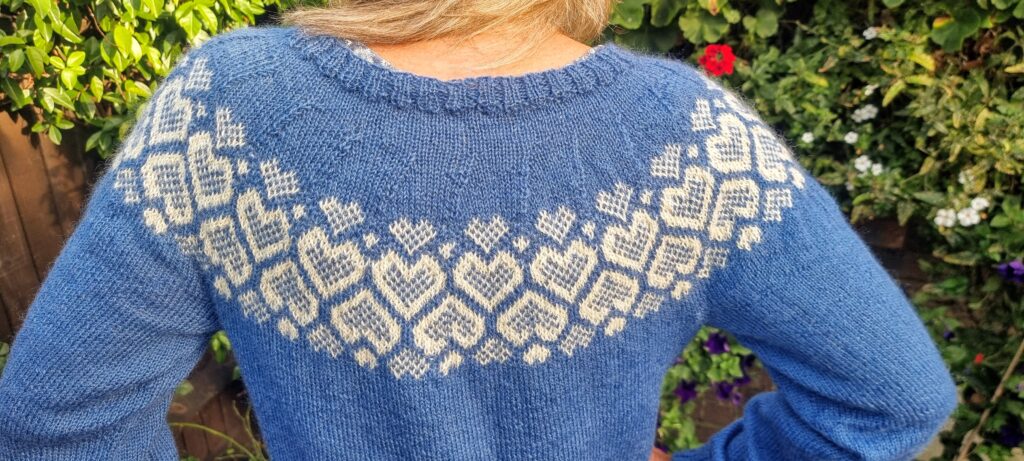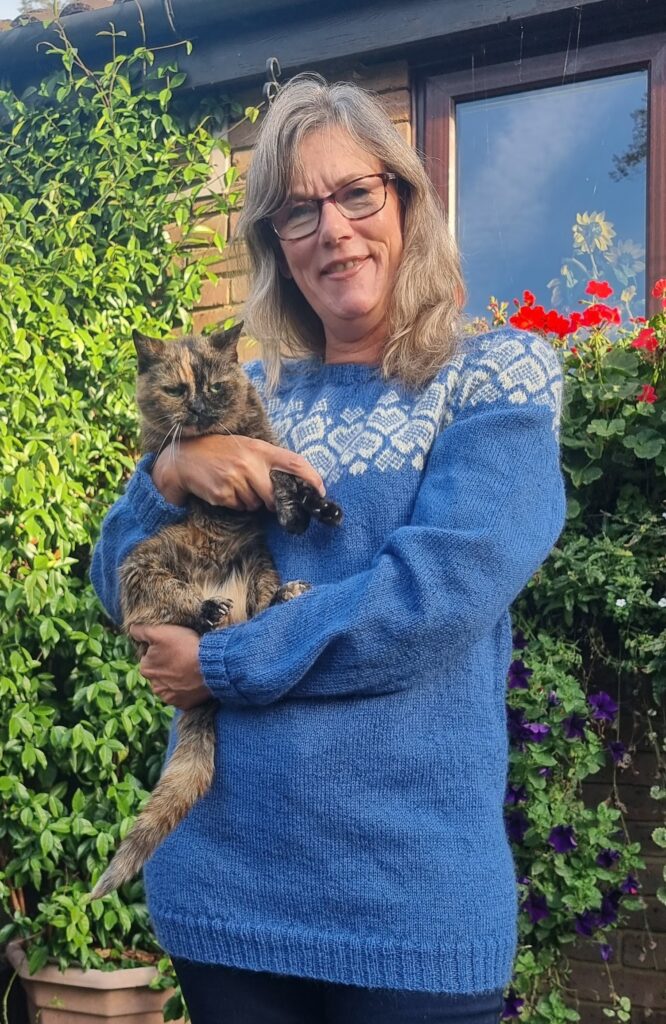 | | |
| --- | --- |
| Completed Knit Report | |
| Name: | After the Rain |
| Pattern: | After the Rain by Wensleydale SheepShop |
| Yarn: | Wensleydale Longwool 4ply solids |
| Pattern Problems: | Some of the length wording is unclear an excessive – just knit to your chosen length. |
| Pattern Modifications: | None |
| Washing and Wearing: | Very warm, light and snuggly – I think I will live in this through winter. |
| Knit It Again???: | Yes – I have the yarn in stash already! |
| Difficulty: | Hard – you need an amount of fairisle and bottom up skill but nothing that isn't explained in the pattern. |
| Rating: | 4/5 |
| Other Postings Relating To This One: | Blue Things |